This weekend my house was very full of people I love. Ole Miss played Auburn, and every place conducive for sleeping in my house was taken. The time flew by, I can hardly believe it is over (but for the large pile of dirty towels and sheets which I am currently washing). Having friends and family in my house bring me joy. It makes me hyper aware of the gratitude I have for the roof over my head that I call mine, especially since it will not be mine for much longer. Lots of life has been lived in this tiny house with the red door. My small group came over last night, and tomorrow I am having a cookout in the backyard, and this weekend I am having more family come stay… clearly I am not taking my last few days in this place for granted.
In my tiny kitchen, I have a chalk board. I love chalk boards or white board or any surface which writing can be displayed mainly because it is an opportunity to encourage myself and anyone else who sees it. "Fix your gaze" has been written on my kitchen chalk board for the past few weeks, daily encouraging me to focus on what is important, what has eternal impact. I got excited about this weekend and I wanted to change the chalk board, maybe a "Go Rebs" or a "Hotty Toddy" would have been appropriate for the occasion. But after much pondering on what would be the best thing to write the only thing that caught my attention was a simple statement which struck me as the most truthful and important thought I have had in a while.
"You're Here!"
It is the truth, which can be a hard thing to find in this confusing world. You, right now, in this moment, you are here, in my kitchen. And I am so excited that you are, and I am so thankful that you are, and that is the truth. And at the same time it is not just a truth, but it is a conviction—I am here, but am I fully here? Am I living presently? Even when I am surrounded by my family and friends who traveled far (or not so far) to see me and encourage me and visit and catch up, am I here? I hope I am, I try hard to be, but the way this world turns it is so much easier to be someplace else. Wrapped up in the next week, the next thing, the next year or the next journey. Wrapped up in Africa, in school, in the stress of work or moving or the fact that I still haven't finished that really great book that has been sitting on my nightstand for a month and oh, if I just had a day to myself with nothing to do I would just love to sit and finish it. Am I here?
I am excited anytime anyone steps in my front door, I thank God daily for people who love me enough to do just that and I hope they leave encouraged or even just feeling a little bit lighter, because that is what community is for, for carrying each others burdens. But I hope when the next person walks in my kitchen, they see my chalk board and question if they are in fact here. Here is a good place to be. I'm not referring to here in my house, although that is a great place to be, I hope you come by soon; I am talking about here, in the present moment, loving those around you and being loved and encouraged at the same time. Are you here? I hope you are.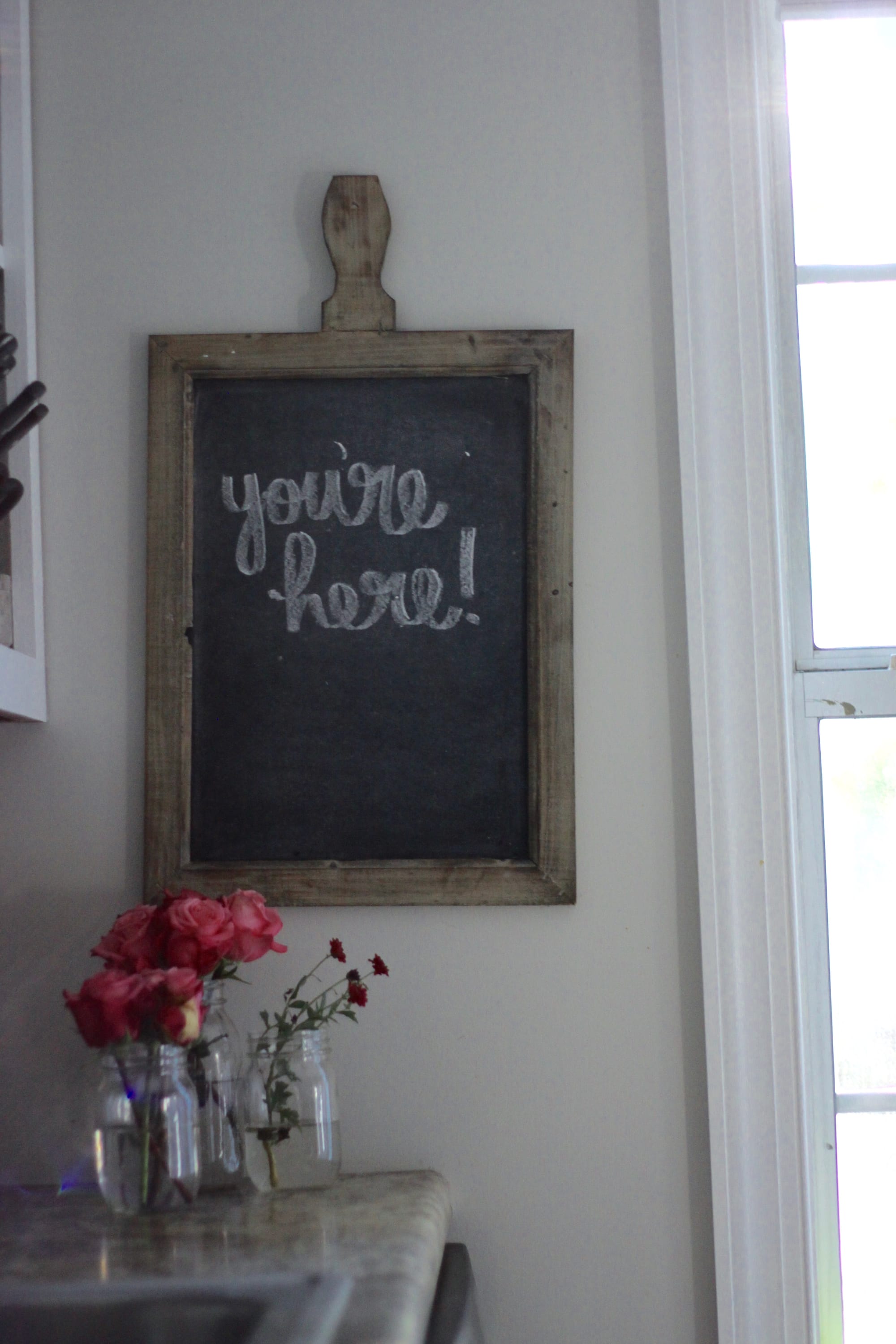 October 22nd, 2018 Update:
Days until I move: 99
Fundraising Completed: 39%