A couple weeks ago I realized the amount of things I have. It is a large amount. I have a tiny house and it is full. Full of things. Some of those thing I need, some of those things I use daily and some I don't. I have never been a keeper, if I were in an interview right now I would classify it as a "weakness that is also a strength". Being able to get rid of things and reduce clutter is a skill some people do not possess. I not only possess the skill, but I excel at getting rid of thing, to the degree that it has caused some regret in the past. Never enough regret for me to cut the habit though. So as I prepare to pack my life up and move to Africa, my ability to get rid of things is stronger than ever. I quickly proceeded to make a yard sale pile.
The concept of the yard sale is a concept which boggles my mind. People giving me money for the things I no longer want, decluttering my life without effort on my part… genius. But anyone who has ever held a yard sale knows that it does require a good bit of effort. Growing up, my mother would plan a garage sale months in advance… I decided to do it three days ahead of time. The Yard sale pile had grown large and I realized it was my last free weekend left in Oxford. With only three days notice I was beyond overwhelmed, so I found the courage to do the one thing I have been working so hard on doing—I asked for help.
I asked a lot of people for help, some people I didn't even have to ask, they just showed up, ready to work. I was overwhelmed with the support I received. From my church family and some sweet friends, I had people painting signs, friends bringing tables and donating items to be sold. Music was playing and all the cookies I baked got eaten and so much was sold. I am overwhelmed remembering how God was there and answered a big prayer that I didn't even know I needed until it happened.
The Yard Sale raised a lot of money. It was one more step closer to the reality that is occurring in 86 days. It can be easy to feel as if I am walking alone for most of the steps on this journey. This was one big step that 20 other people took with me. It is such a beautiful reminder that I am not really walking alone. Even the steps which I physically will take by myself, I know that I am not alone. God reminded me of that through a Yard Sale.
Asking for help is good, I might not be good at it, but it is good and I am working on being better at it. And people are willing to help, people want to help, people want to take steps with me just as badly as I want them there. I believe God has chosen to put specific people in all of our lives for specific moments, some serve their purpose and leave, some stick around a while, regardless they are all there for a reason. I am so thankful for the people who are in my life right now, the ones who show up, who support me and who remind me of our Fathers love and point me back to his promises. And I am thankful for Yard Sales on beautiful autumn afternoons in the south and for His reminder as the leaves began to fall that seasons change but his love is constant, we never walk alone.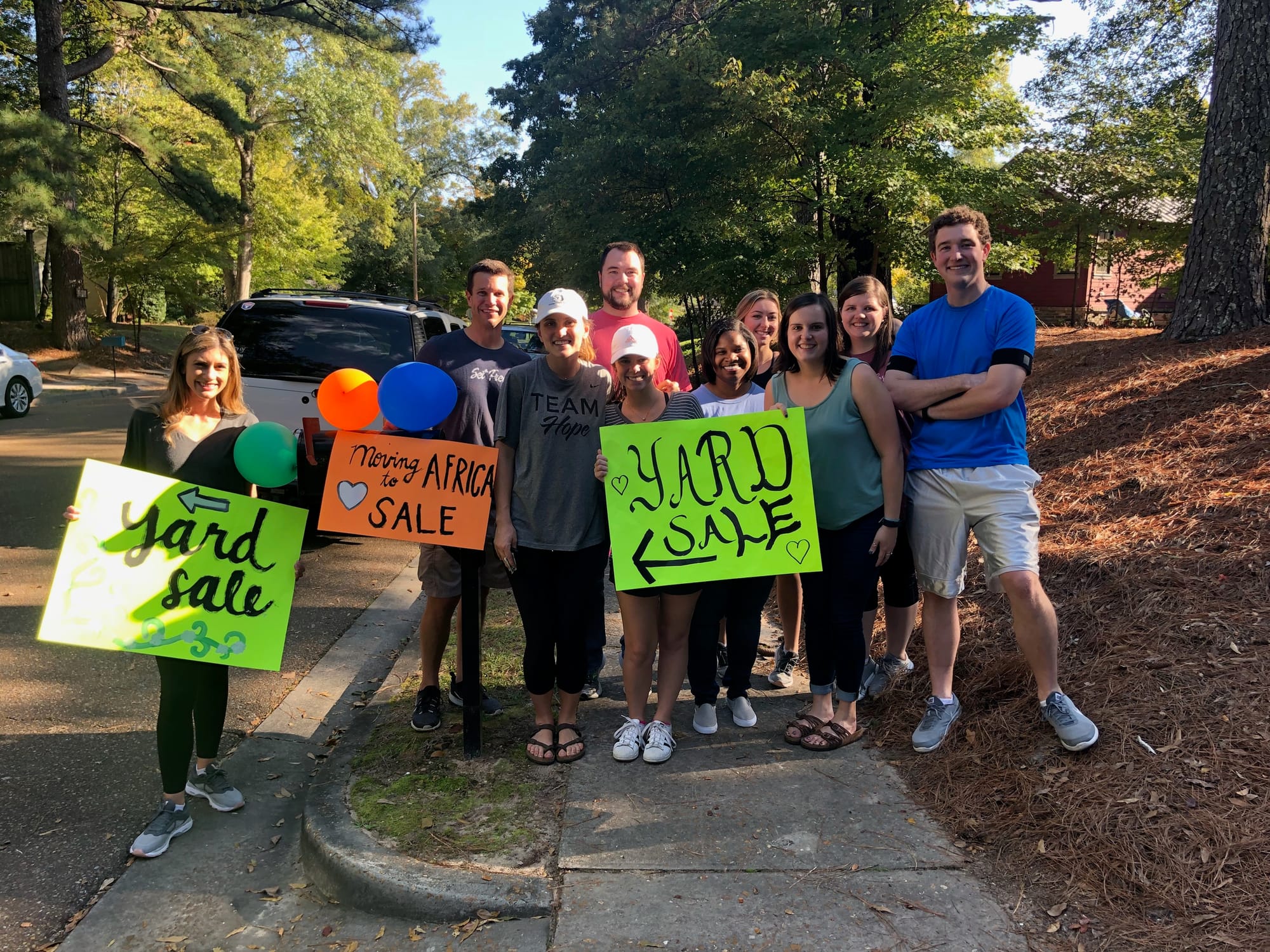 November 4th, 2018 Update:
Days until I move: 86
Fundraising Completed: 41%