Ahhhh the comfort of a warm slice of banana bread. When I was a kid, my mom always made banana bread for our family of six in big batches. We would eat some loaves, she would freeze some loaves, and she would always give away some loaves to sick friends, or new moms.
While my mom's banana bread recipe is unrivaled, now that I try to avoid gluten (unless I am really indulging) my mamas 5-star banana bread recipe needed a revamping. My sophomore year of college I wrote down her recipe on a note card titled Mama's Banana Bread Recipe. Hence the new title, Daughter's Banana Bread Recipe. I made this recipe after much trial and error, and I think I finally found the perfect combination for gluten free and dairy free deliciousness, while maintaining the texture and flavor of my mom's classic bread.
This recipe is extremely inexpensive for me to make here in Africa. Cassava Flour (a nut free, grain free flour alternative) is easily accessible and costs a lot less here than it may cost at Whole Foods in the States. The cassava root is commonly grown in developing countries because it is a crop that can grow in any climate. Ugandans fry or boil the root and eat it with avocado, or they dry it and make it into flour. They use the flour for many things, but mainly for Ugandan pancakes, which are deep-fried small pancakes made with cassava flour and sweet banana. They are very good.
I recall buying a bag of cassava flour in the states for about $8/lb. Here I buy cassava flour from the local market for 1,500 Ugandan shillings/kg, that's approximately 20 cents/lb. To put that in to perspective, cassava flour in the states is 40x more expensive than it is here, and to date that is the largest price difference I have stumbled across. Understandably, I have been using the mess out of it. It can be used as a thickener for soups, sauces and a flour alternative for coating fish/meats before pan searing.
Cassava flour in the states is becoming easier to find in most grocery stores, you would probably find it near the almond flour or flour alternatives. But it can easily be swapped in this recipe for GF Flour (I love Bob's Red Mill), or regular flour to make a Gluten FULL adaptation.
This recipe calls for more bananas than most recipes do, and I will say, I think Ugandan bananas are much more flavorful and sweet than bananas imported into America. That being said, make sure your bananas are extra ripe when you use them. In the states, I typically freeze my bananas about a day before they would go bad. I'm talking fully brown, as over ripe as possible. Then I save them for a bread making day and I pull them out of the freezer to let them thaw on the counter for a couple hours before I plan on baking.
Lastly, being my mothers daughter, I have to note that the recipe calls for full-fat canned coconut milk. This is because it is the best dairy milk alternative available to me in Uganda. I love the richness it gives in comparison to butter or regular milk in the recipe. I also use canned coconut milk for coffee creamer in the morning or for curry dishes, so don't throw away the rest of the can after baking, put it to good use!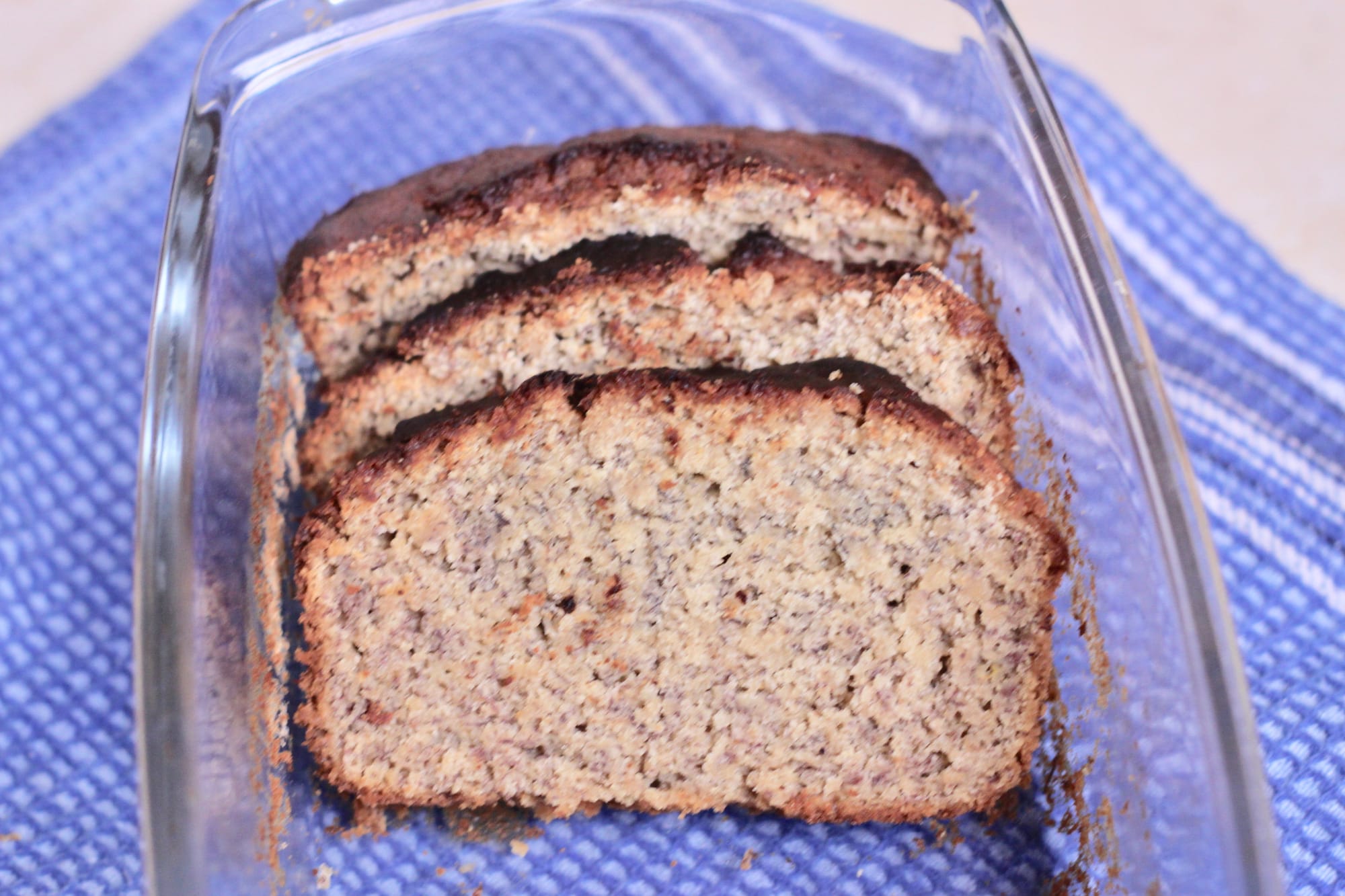 DAUGHTER'S BANANA BREAD RECIPE
Ali Roberson
Wet Ingredients:
4 super ripe Bananas
1/2 cup sweetener of choice (I found a half and half mixture of honey and unrefined sugar made for the perfect consistency, you could choose just one if you want)
2 eggs
1/2 Cup Full-Fat Canned coconut milk
2 tbsp coconut oil
1 tsp vanilla
Dry Ingredients:
2 (packed) cups Cassava Flour
1/2 tsp Salt
1 tsp baking soda
Chocolate chips (optional)
Instructions:
Preheat oven to 350 degrees.
In a bowl, mash bananas and combine with sweeteners and eggs.
Add oil, coconut milk and vanilla.
In a separate bowl, mix all dry ingredients.
Add 1/3 of the dry mixture to the wet and stir with a whisk until combined, continue adding the dry mixture into the wet mixture slowly, scrape the bottom and sides of the bowl with a silicone spatula until it is well combined with no clumps.
Fold in chocolate chips if so desired.
Place batter in oiled loaf pan.
Bake in a preheated oven for 45 minutes or until a knife pulls out clean when stuck in the center of the loaf.
Allow to cool completely (or for as long as your self-control will allow).
WEEKLY UPDATE JUNE 4, 2019:
Things have been very busy in Uganda these past few weeks. I had my first (and sadly, last) visitor come stay with me in Kampala and we traveled around the beautiful country a bit. I also got really sick last week and have spent the past few days slowly regaining my strength.
As I prepare to move to Eastern Europe in 3 weeks, to finish the second half of my year with International Justice Missions, I am soaking in every moment left in Uganda. I know Bucharest will be amazing, but wow, Uganda has my heart.
Please continue to pray for me as I get ready to make the big move. There are lots of unknowns as we move into completely uncharted territory and venture into combatting human trafficking in Eastern Europe. Prayers for Visa issues, travel mercies and continued health are so appreciated.
I am also continuing to fundraise for the big move and would love your shares of this recipe or of past stories to help spread the word of the incredible work of International Justice Mission. It is so humbling to work for such a justice oriented and Christ centered organization. They are doing so many good things, and the fact that I get to be a part of it still blows my mind on a daily basis.