Every year as the cool promise of fall approaches, I get a craving to go to the mountains. But I live in Mississippi, which is about as far from mountains as you can be. Last year when the craving hit we took a day trip and drove to Arkansas, this year I found a closer spot—definitely not mountains, but a few large hills and a whole lot of peace and quiet. I just read a book that made the craving come sooner than it normally would (Into the Wild, P.S. a post about some of my favorite books is coming soon!), so even though it was a warm 90 degrees, I knew the hike would be shady and my desire to go was creating a confidence in my ability to cope with the heat.
Goose, my 2 year old golden doodle, tagged along as always.
For a few ho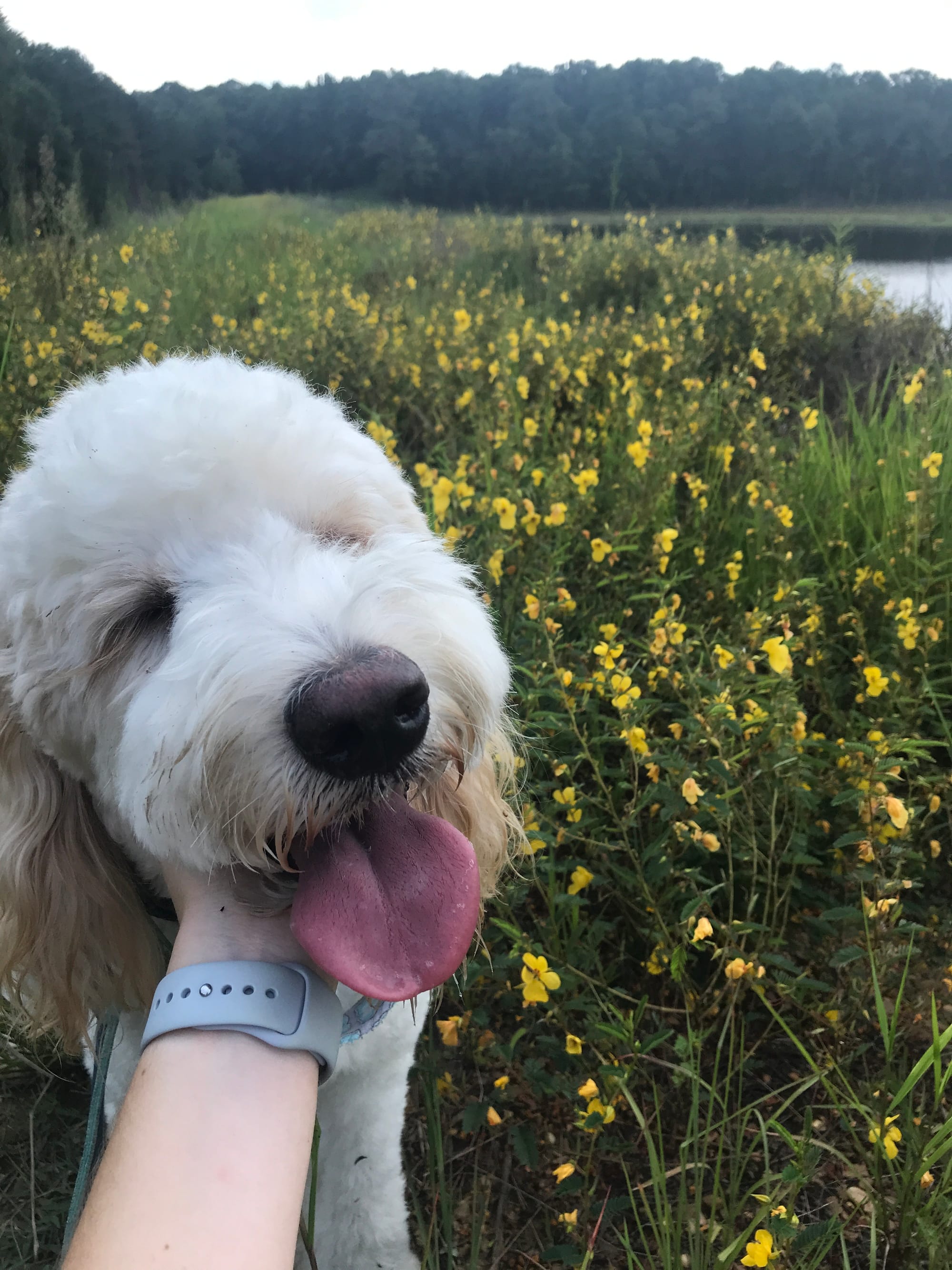 urs my craving for the mountains was satisfied. I walked in the silence and I was reminded that slower is better. I did lots of reflecting and it was what I needed-- because God is overwhelming me with His goodness in this phase of life and taking time to recognize that makes it so much sweeter. Some moments on the hike were so peaceful, the path opens up before you and the quiet of the woods surrounds you in the way only nature can.
The path was never well marked but it was mostly shaded which prevented anything from growing over it. The tricky part came when the path wasn't shaded. Waist high grass grew in the sunny parts and even my hiking pro doggo was confused on the best path to take. At one point I thought we had lost the path entirely. We were in a sunny field and the grass had overgrown the path so much that I couldn't even sense a general direction of where it continued, I got scared, and turning back felt safer while I still knew a way out. So we turned around.
After half a mile of back tracking we came upon a jogger who told us if we had just kept going a little further through the field we would have seen the path clear. If we had just kept going a little further, even without knowing where the path was—if we had only kept going a little further we would have found our way.
Where are you turning around in life because the grass is too tall? Where are you hesitating because you no longer see the path?
The grass is tallest where the light lets it grow, and sometimes that leaves us feeling a little lost, and that's okay. I am searching for contentment inside that feeling of not knowing where I am going. Being lost is uncomfortable, but we weren't called to live comfortable lives. I am still overwhelmed by all that God is doing, the grass feels tall but I am not turning around, I hope you won't either.
Note on Goose: Lots of you are curious what he will be doing while I am in Africa—great question! I have had so many sweet friend offer to keep him and I haven't made a decision yet. Luckily he is pretty good at going with the flow and he has never met a stranger. Leaving him for a year will be really hard, he is my best friend and the best hiking buddy, and I am already jealous for whoever gets to keep him while I am gone.
Hiking Trail: North Cyprus Non-Motorized Trail, Holly Springs, MS
September 9th, 2018 Update:
Days until I move: 142
Fundraising Completed: 24%